I've been on here a few times but haven't posted a  journal yet so let me try this time, it seems to really not only encourage the poster but also sort of leaves a road-map for others in the case of 5-bite success!
I am a 23 year old female and I'm 5'6" tall.
Today I weigh 118.5 lbs
My goal for the 1 week mark is 115 lbs (keeping it realistic, since I don't have very far to go & I know the thinner you get the slower you lose
).
The slimming station says I should weigh 114.5 to be at a BMI of 18.5 so that is my next goal and from there, depending on how I feel/look I may choose to drop on down to 110.  (I'm not shooting for unhealthy, I just know I was 108 at one point and felt GREAT and didn't look underweight.  I tried to post pics but it didn't work).  
Thanks for reading!  
Today so far it's been:
B- coffee & splenda
L- white cheddar cheeseballs (how suave of me
 )

R.C.B




Posts

: 10


Join date

: 2013-06-28


Age

: 31


Location

: Florida




R.C.B




Posts

: 10


Join date

: 2013-06-28


Age

: 31


Location

: Florida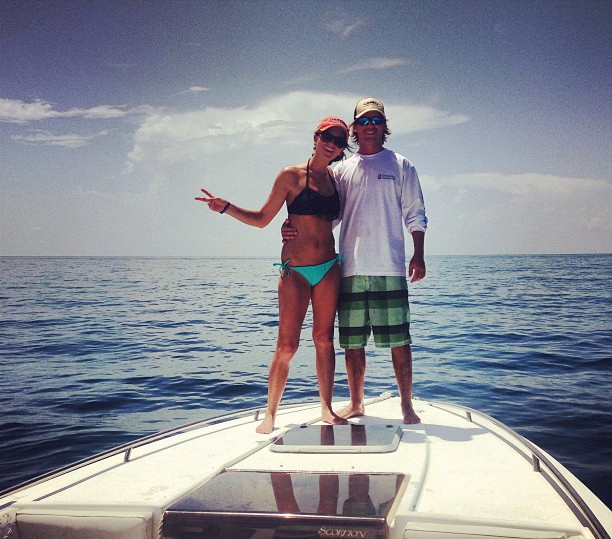 This is me now, (the chick on the left- my fiancé is on the right, not a girl hehe). So I'm not "hopeless"
 just would like to lose those extra few lbs that careless snacking packed on.
P.S. once I lost the weight and had learned I was ok with smaller portions I really did keep it off without counting much. It wasn't until I started "grazing" again that I regained the weight. The 5bd is a great tool to lose it and teach my body to get used to the small portions with no snacks routine again. Once the weight is gone there's automatic motivation and momentum, so I'm very optimistic.

R.C.B




Posts

: 10


Join date

: 2013-06-28


Age

: 31


Location

: Florida



Hi Rachel,

You'll probably not like what I'm about to say, but I really don't think you should do this 5 bite diet because you don't need to.
You are not overweight and you know it, otherwise you wouldn't have posted the photos. So, if you are happy with your body as it is now (and you should be); you should lose those 5 extra pounds in at least 1 month without risking to see them back after a few weeks. After all, this is a crash diet.
Personally, I've chosen to do it because I still have around 30 lbs to lose. When you're really overweight and - if you allow me to quote you - "hopeless", you just want to get rid of that fat as soon as possible and I knew I couldn't lose 60 pounds in 1 or 2 weeks. So I chose drastic diets in order to lose some of that weight and then, at least keep it off when I decide to have a break.

I'm sure that every overweight person who reads your post would love to have your 118 lbs and a body like yours. The fact that you want to have a 18.5 BMI is dangerous. A normal BMI is between 18.5 and 24.9. Yours is 19.1. If you were at 110 lbs as you wish, your BMI would be 17.8 = underweight. And the biggest risk of all is to gain again a few pounds and then to want to lose more than that to be sure you'll be thin enough in case you put on some weight, then anorexia because no matter how thin you are you feel fat.

If you really want to stay on this diet, I hope you won't go beyond 5 pounds.

claire1




Posts

: 181


Join date

: 2013-09-10


Age

: 38


Location

: France



Hi Rachel,
Thank you for posting.. Your pics are beautiful. I know what it feels like to be on both ends.. I was once very thin and still felt I could lose a few lbs and now I am fare to big and need to lose many...
  I wish for you to find your happy medium. If your goal is 110 for sure you can do this in a week.. In the long run your body will figure out the size you should be.
Debbie

ElleBella




Posts

: 2474


Join date

: 2012-05-27


Location

: Kelowna BC



If the slimming station says you need to be at 114 I would even go 5 or even 10 pounds lower because your meals consist of cheese balls. When you get used to eating food like that it's easy to over due it on the portions especially combining it with alcohol. The 5BD will help you reach your goal in no time.

BTW no one here or anywhere is "hopeless."

Good luck on your journey and as I said, you'll be there in no time!

Snow White




Posts

: 1661


Join date

: 2010-05-19


Age

: 47


Location

: Tennessee



Hi Rachel, How are you doing? Hope you are doing just great!!!

ElleBella




Posts

: 2474


Join date

: 2012-05-27


Location

: Kelowna BC



---
Permissions in this forum:
You
cannot
reply to topics in this forum